If you have a list of phone numbers to which you would like to send a Whatsapp message, the first thing you should do is to check the validity of the numbers.
The presence of "non-Whatsapp" phone numbers in your list could compromise your Whatsapp Marketing campaign and even cause the blocking of your account.
How to filter whatsapp numbers and understand which are valid Whatsapp numbers and which are not?
WhatBot Plus has a powerful Whatsapp Number Filter feature. Here are the steps to follow to do this in a few minutes (even if you have lists of thousands of numbers to check)
How to Check of Whatsapp and non-Whatsapp Numbers
Step 1. Download and install WhatBot Plus on your Windows PC. All Windows OS are supported.
NB: The free version does not allow you to save filtered number. You need to purchase the license to enable this feature.
Once installed you will see this main screen:
Step 2. Open Whatsapp and scan QR Code
After that WhatBot Plus is opened, click on "Open Whatsapp" button on the top left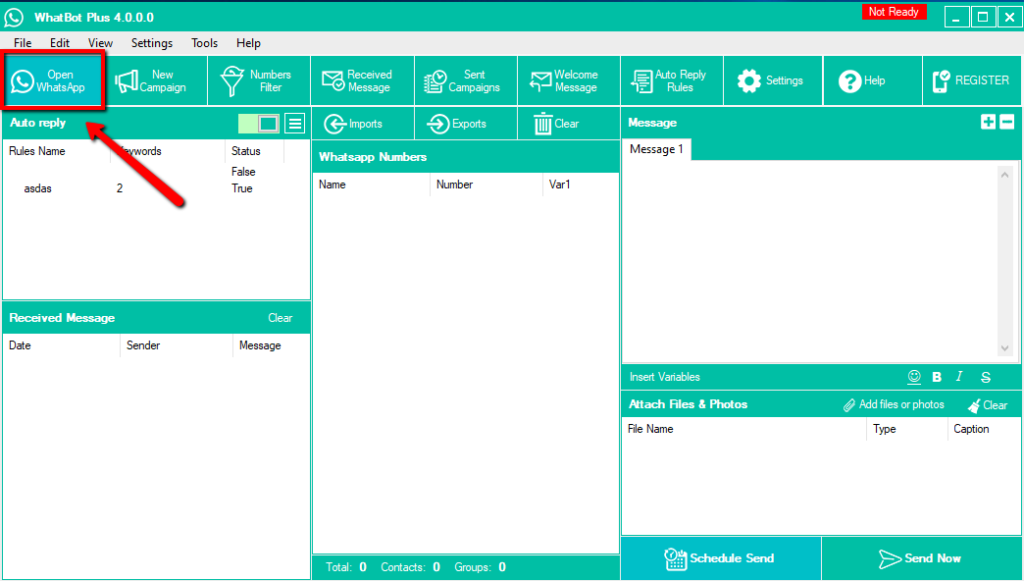 It will open the Whatsapp Web page with a QR code that you have to scan with the scanner integrated into the Whatsapp app of your phone.
After that you scan the QR Code the software will show "READY" on the top right.
Step 3. Use NUMBER FILTER feature
Tap on NUMBER FILTER button on the top of the program

It will open this new window:
Import your contacts (phone numbers) clicking on FILES (to import from csv or excel file). Or you can click on MANUAL to manually enter the phone numbers to check.
With the free trial version only "Manual" importing is enabled.
After that you import phone numbers to check, click on START CHECKING button and the program will start to filter. In red you will see non-Whatsapp phone number. In green you will see valid Whatsapp phone numbers.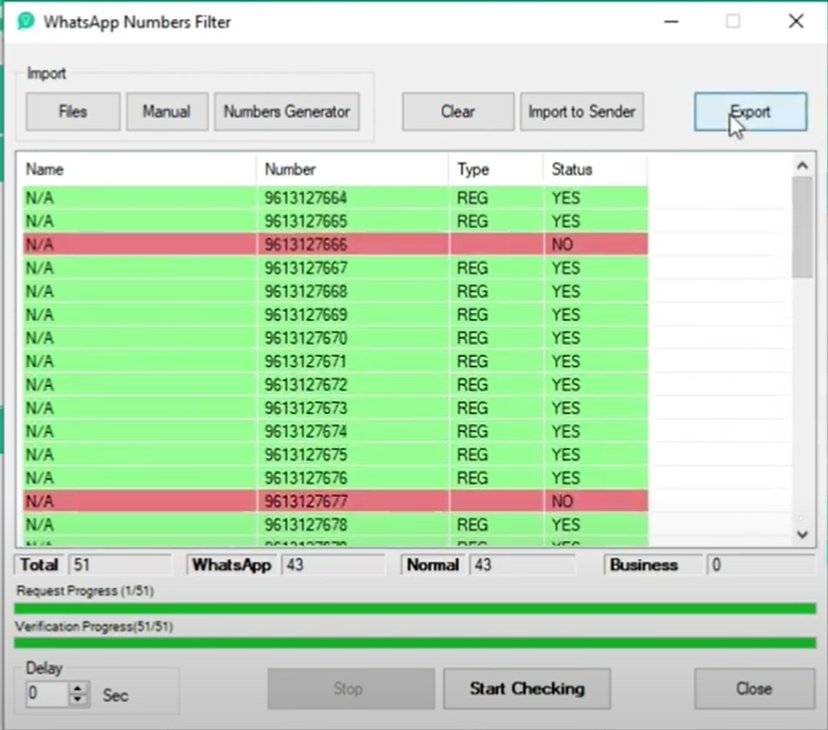 At the end of the check you will be ale to click on EXPORT button to save valid phone numbers (or all numbers) on your PC into a csv or excel file.